The Val di Cecina of Tuscany, Italy, extends from the coast, where the town of Cecina and other tourist resorts are located, as far as the famous hill top town of Volterra, perched on a rocky spur at 500 m. The Cecina Valley is still today among the most remote areas in Tuscany and well of the beaten track for tourists. The Valley extends along the River Cecina in the south of the Province of Pisa and takes in parts of the Provinces of Sienna and Grosseto. It also extends a short distance into the central portion of the Province of Livorno, near the final stretch and mouth of the river.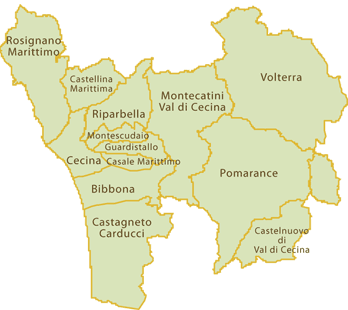 The Val di Cecina is hilly in the hinterland but mostly flat near the mouth of the Cecina. It is quite famous for the steep ravines, known as Balze di Volterra, which are found near Volterra. The area is also rich in geothermal activity including geysers, hot pools and steam outlets in the area around the village of Larderello near Pomarance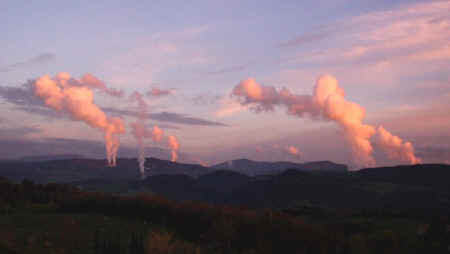 Geothermal steam vents in the Val di Cecina near Larderello.
The Val di Cecina as a whole includes the municipalities of Castellina Marittima, Riparbella, Casale Marittimo, Guardistallo Montescudaio, Montecatini Val di Cecina, Volterra, Pomarance, Castelnuovo di Val di Cecina and Monteverdi in the Pisa inland, some portions of the municipalities Radicondoli and Casole d'Elsa in the province of Sienna and the town of Cecina Livorno along the coast.

The part of the Val di Cecina that extends along the foothills sloping down to the Maremma Livorno and the central part of the Etruscan Coast is also called the Maremma Pisana and includes the municipalities of Castellina Marittima, Riparbella, Montescudaio, Guardistallo, Casale Marittimo and Monteverdi Marittimo.

The Upper Cecina Valley, in the southern part of the Province of Pisa, comprises the districts of Castelnuovo Val di Cecina, Montecatini Val di Cecina, Pomarance and Volterra. The area is bordered to the west by the Cornia Valley and the lower Cecina Valley, to the north by the Era Valley, to the east by the Upper Elsa Valley and to the south by the Colline Metallifere of the Alta Maremma.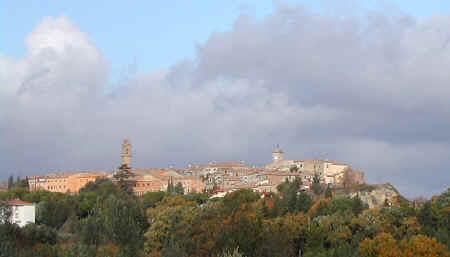 Pomarance
Castelnuovo Val di Cecina

Castello Ginori di Querceto
at Montecatini Val di Cecina



The area is rich in history and boasts a unique artistic and archaeological heritage. This area of Tuscany has inspired many writers, poets and painters including Rosa, Stendhal, Lawrence, Dennis, Corot, D'Annunzio and Cassola. Most of the works of art from the Etruscan, Roman, Mediaeval and Renaissance periods are to be found in Volterra which the cultural centre of the beautiful Upper Cecina Valley. The Guarnacci Etruscan Museum of Volterra is particularly worth a visit. The forests of Berignone-Tatti and Monterufoli are some of the wooded areas here.